Check out this article on bicycling.com on our San Remo frame series of bikes!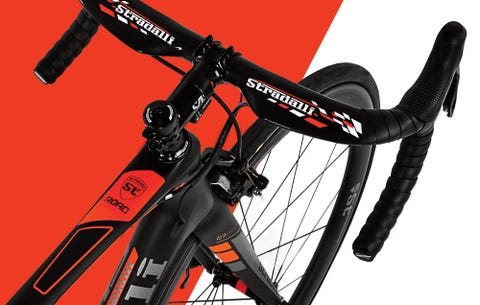 Stradalli San Remo: Light, Strong, Fast, and Delivered Right to Your Door
Miami-based online direct-to-consumer brand Stradalli has earned a reputation for well-designed bikes (both on- and off-road) with excellent components, at prices lower than the competition. They've been selling bikes online for 11 years, though the company's roots go back about 25 years in the motorcycle accessory business.
The San Remo is a case in point. It's outfitted with Shimano's latest Dura-Ace 9100 groupset, Stradalli carbon clincher rims laced to DT Swiss 240 hubs, and an FSA PowerBox crank. You get all this for two to three grand less than similar offerings from major brands.
The San Remo is a straight-ahead race rocket. The slightly aero carbon frame (a design unique to Stradalli, not an open mold) belies the bike's aggressive handling and nimble steering. I was able to rip it through linked turns and tight corners, and the bike was easy to direct and comfortable over less-than-ideal surfaces. The ride delivers a good compromise between light weight and stiffness.
It can accommodate up to 28mm rubber, placing the San Remo on par with current road-race bikes and adding a bit more versatility and ability to tune its feel..
Light, strong, fast, affordable, and delivered right to your door: Order on stradalli.com (reps are available by phone to assist), and the bike ships within a couple of days. When it arrives, just straighten the handlebar, torque the stem to the right setting, and install the front wheel. Presto: New Bike Day.
---
Stradalli Cycle Introduces The RD17 Hydraulic Disc Brake , ultrgra 11 carbon Road Bike For Under $2,000
Carbon Bike Manufacturer Stradalli Cycle has announced that beginning immediately they will begin offering the Stradalli Carbon RD17 Hydraulic Disc Brake Road Bike which includes Shimano Ultegra 11 Speed, for less than $2,000. Road bikes tend to cost between the $2,000 to $15,000 range based on quality and components. Hydraulic disc brakes are becoming very popular in the cycling world because they offer more control, stopping power and perform better in wet weather. However, they are also more expensive than standard rim brakes as they require more time to assemble and more expensive equipment. Stradalli Cycle set a goal of building a carbon road bike with hydraulic disc brakes that would be affordable for any cyclist.
"What people don't realize is that when they walk into a bike shop and see the selection they are dealing with a middleman. That shop already purchased the cycles and marked them up so that they can make a profit on a sale. We are not the middlemen, we sell our own brand and that's why we can offer quality full carbon cycles at lower prices than the competition. Our quality is undeniable as our pro race teams are having success all over the world, our customers love our product and our prices are unbeatable. But it's easy to offer something a little cheaper than everyone else. We wanted to be different, truly unique and that's the significance of the RD17. You will literally pay twice as much or more for the exact same bike at a bike shop. That's what we want people to understand." Stradalli Cycle CFO Jeff swersky
The RD17 road bike with hydraulic disc brake is available online at the company site and can be shipped anywhere in the world for below $2000 .
Stradalli Cycle offers elite quality carbon bicycles at everyday low prices.
---
CBS 4 Coverage Of The Stradalli Cycle Robbery
Thieves grab pricey bicycles from Pompano Beach cycle shop, owner says
ROBBERY – BREAK IN ON CBS 4 ABOUT STOLEN BIKES AT 5:28 TODAY
At 5:28 pm today CBS 4 WFOR-TV there will be updates regarding the break in which took place at the Stradalli Cycle headquarters in Pompano Beach Florida on Sunday night at 11 pm.
We ask that everyone share this information to help prevent the sale of stolen bikes and to bring the perpetrators to justice. If you have any information significant to the theft please feel free to call the police or call us direct 954-283-8585.
To recap: At 10:50 pm on Sunday (3/6/16) a group of 9 men arrived at the Stradalli Cycle headquarters and broke in, stealing over an estimated $150,000 in high-end full carbon bikes from the facility.
They were driving a stolen dually roofing company pickup truck, a black Ford F-150 and a white minivan total of 3 vehicles combined. It is believed that one of the suspects was in our store last week posing as a customer and casing the facility arrived in a 2005-10 Silver Dodge Charger with chrome ghetto rims.
We urge everyone in the cycling community to watch the broadcast on CBS 4 today to get more information and to also share this information with others in the cycling community.
---
The headquarters of Stradalli Cycle in Pompano Beach, Florida was burglarized Sunday night. The company focuses exclusively on high end carbon fiber bikes equipped with Shimano components was robbed by a group of 8 perpetrators who stole between 50-60 bikes, estimated to be worth over $150,000.
Each bike stolen was equipped with Shimano Dura Ace mechanical and Di2 components and the majority of them were also equipped with carbon wheels. Other items including high end cranksets and carbon wheels were also stolen.
Police were given a surveillance video which shows a group of men, 1 Caucasian and 7 dark skinned individuals arriving at the facility between the 10:50 pm and 11:11 pm, breaking into the warehouse and stealing the bikes and wheels using a stolen dually roofing company pickup truck.
Thankfully no Stradalli Cycle employee was hurt as it was late in the night after business hours. Pompano Beach Police Department rushed to Stradalli Cycle Headquarters as soon as the alarm sounded, but the thieves had already disappeared upon their arrival.
An investigation is currently underway.
CEO Tom Steinbacher strongly encourages anyone with information about the identity of the thieves to come forward and assist with the investigation. Also if you see any independent sales of the company bikes online or in person please contact us immediately.
---
In 2016, it doesn't matter what continent you are on. Finding success requires ambition and the price is always greater than what you initially bargain for. The world of business is cutthroat. The world of sport is unforgiving. The world in general can be harsh, but that hasn't stopped Stradalli and Bike – Aid from turning their ambition into real success. It hasn't stopped Stradalli – Bike Aid cycling team from ignoring tough odds and persevering with their mission to bring others opportunity they may never have.
During 10 days of filming professional cyclists, celebrities and Stradalli Cycle are going to share their success with the world in a new television show to be broadcast all over Europe. The show will reach millions of people, but more importantly the mission and the charity will reach these people. Changes in sport and society need to be made and Stradalli – Bike Aid isn't sitting back and waiting for it to happen.
Filming begins tomorrow all around South Florida from Orlando to Miami Beach. Germany's top professional television crew is flying into South Florida to stay to document the chance of a lifetime for one professional cyclist over the course of two weeks. He has what it takes to make it at the top level of cycling and the ambition to contribute to charities worldwide. The question will be whether or not that same ambition will help him find success in business. Stay tuned for updates throughout the week of filming and behind the scenes sneak peeks with real professional cyclists and celebrities.
---
---
Today Only! Call And Order ANY Stradalli Cycle Bike and get guarantee same day or next day shipping AND you also receive a FREE pair of Stradalli shoes as well as a FREE catlike helmet! Call 954-283-8585
---
STRADALLI CYCLE AND BIKE AID CONTINENTAL CYCLING TEAM JOINING FORCES FOR 2016 UCI SEASON. POMPANO BEACH, FLA. NOV. 23, 2015.
Full carbon bicycle manufacturer, Stradalli Cycle becomes the official title sponsor and bike sponsor of the German professional cycling team Bike Aid.
The team will officially be called Stradalli/Bike Aid for the 2016 season. The team will race with the goals of competing clean and helping African athletes to race with the top level World Tour professionals. They will race as well as support many community and charity projects to help cycling worldwide.
Eric Haus, President of Bike Aid said the decision to go with Stradalli Cycle was an obvious choice.
"For us it was difficult to change the club's infrastructure and combine everything with a professional team. The concept of the club is to help African athletes with the bike aid club. We accomplished a lot giving to African athletes."
"We had lots of success worldwide in races, in the media and bringing athletes into the worldwide community. We needed more money. The international, three year multi-million dollar engagement with Stradalli Cycle will allow us to build a bigger and more successful team."
"It's not easy to find a sponsor that believes in your goals outside of racing. They are more than just another sponsor. Thomas Steinbacher, CEO of Stradalli Cycle took an interest in our cause and is fully committed to helping the Bike Aid Program. He wanted to help get the word out, work for a good cause and give back to the worldwide community."
"It is much harder to bring athletes from Africa as opposed to Europe because of the legalities regarding nationalities and borders, but it will be much easier now that we have better support and partners."
"The sponsorship consists of bikes, racing gear, marketing support and a high six figure Euro payment, but the exact amount will remain confidential."
Stradalli Cycle will support Bike Aid for the next three years with high quality carbon bicycles. Stradalli will be the title sponsor, bike sponsor and provide most of the budget necessary for a professional team to operate successfully.
Stradalli will bring their experience of nine plus years of professional racing in the United States and has had major sponsorship deals with several professional teams in the past. Stradalli Cycle was recently the sponsor for the Colombian National Team for the UCI 2015 World Championship races in Richmond, Virginia.
The racing calendar will feature races from all continents with a full professional racing calendar. Stradalli and Bike Aid want to show how cycling unites people. This high ranking race calendar will challenge the racers with races in UCI categories from 2.2 to 1.HC. Stradalli Bike Aid will be at 1.HC races on the starting line with all the World Tour teams.
Steinbacher said the opportunity to work with Bike Aid was not something he could pass up.
"We have been looking to find the perfect team for a long time and we found the most synergy with Bike Aid. We believe in the cause of Bike Aid and the people who run it day to day. We believe that Stradalli/Bike Aid will bring a lot of good, positive and clean changes to the cycling world and awareness to a great cause."
"All new teams are a challenge in the beginning, but this will be a great year for us and we are looking to step up to a World Tour team in the future."
For 2016, we also have a United States professional criterium team, Stradalli/Safetti. We have a women's domestic elite team, Stradalli/Papa John's and we have a junior development team Stradalli/Wizard Racing Team.
---
Breaking News! Stradalli Cycle has announced their Black Friday Deals! All full carbon bikes including road cycles, mountain bikes, TT and others have been marked down for the month of November!
If you want the exact same full carbon road bikes used in Richmond 2015 UCI Road World Championships by the Colombian National Team now is your chance to get them at a reduced price.
If you want the same mountain bikes used by top mountain bikers around the world like the 29er and others then now is the time to purchase these full carbon MTB at a price that cannot be beaten.
Looking for the perfect TT bike for triathlons? The TTR-8 will literally have you feeling like a bullet and it is currently on sale for the entire month of November for less than $3,000. No other bike manufacturer or shop can offer you that quality for such a low price.
But here's the best part! Not only have we significantly marked down our bicycles but you get a FREE set of Stradalli Stealth Flaco Ergo Drop Carbon Fiber Handlebars if you purchase either the:
"Napoli" Full Carbon Road Bike.Shimano Dura Ace 9000 11 speed. 27mm Wide x 50mm Carbon Clinchers.
OR
R7 White Pro Full Carbon Road Bike. Shimano Ultegra 6800 11 Speed. Stradalli Full Carbon Clincher 50mm Wheel Set.
---
Stradalli Cycle Customer Appreciation Month Special: Salerno Frame Only $750 When You Call!
Stradalli Cycle wants to thank their loyal customers for making this the greatest year in the company's history. So throughout the month of November if you call the shop you can get the exclusive Salerno Full Carbon Road Bike Frame for only $750.
This is the cheapest these frames have been offered and they are only available if you call the shop!
Take advantage of this great deal while supplies last and don't miss your chance to get a pro race quality full carbon road bike frame for such a low price!
Call: 954-283-8585
---
Stradalli Cycle Joins The Fight Against Breast Cancer
Stradalli Cycle has gone pink to help gain attention for Breast Cancer Awareness Month all across the world! In honor of breast cancer awareness month Stradalli Cycle has released a selection of pink cycling products available for purchase including the pink Full Carbon "Faenza" Road Bike.
"We have supported the pink movement for a long time, we changed the Stradalli Cycle Pro Racing Team logo to pink and many of our pro racers ride the pink Faenza. I think the reason the pink bike is so popular is because it stands out, it makes an impression when someone sees it whether it is another cyclist or just someone passing by in their car. That's a great way to raise awareness and that's what we are trying to do. Everyone in the Stradalli Family has been impacted one way or another by Breast Cancer whether it was a family member or someone we are close to. There are plenty of things you can do to show your support but I can't think of a more impactful and more enjoyable way to do it than riding your pink bike." Stradalli Cycle CEO Tom Steinbacher
In honor of Breast Cancer Awareness Month Stradalli Cycle is offering the pink "Faenza" full carbon road bike at a discount as well as all other pink products we carry. This is your chance to show your support and help raise awareness for an important cause.
---
Breaking News! Stradalli Cycle Releases 2016 Carbon Frames, Now on Sale!
Didn't get a chance to go to Eurobike or Interbike to see the latest in cycling technology? Don't worry Stradalli Cycle is releasing their 2016 Carbon Frames to everyone! This is your chance to get the new frames, new designs, new colors at low prices well before they are on the shelves.
No dealer in the world will have these frames this early on and you can get the 2016 selection in September, on sale! How can you beat that?
You can get Road and Time Trial frames with more from the 2016 selection on the way!
These carbon frames weren't even available for Richmond 2015, that's how new they are! Take advantage of this deal and be the first to own the newest Stradalli Cycle carbon frames including:
1. Stradalli Aversa Full Carbon Aero Road Bicycle Frameset
---
Stradalli Cycle Customer Appreciation Month

Stradalli Cycle wants to thank all our customers and friends for
their years of support and patronage. All month long we will be having a
contest for the best customer pics.

1st Place: A Pair of Stradalli Shoes, Socks and riding Glasses;
Value: $225.00

2nd Place: A Pair of Stradalli Cycle Shoes and Socks;
Value: $125.00

3rd Place: Stradalli Cycle Jersey;
Value: $55.00

Send us a picture of your Stradalli Cycle. It can be in front of a car, at
the beach, a waterfall, in front of a landmark, racing or anything else you can
think of!
We will post the pictures online and pick a winner at the end of
the month!

Email: James@Stradalli.com for more details and to submit pictures!
---
Stradalli Cycle Announces Huge Labor Day Weekend Sale
Stradalli Cycle is now having a Labor Day Weekend Sale on carbon fiber bikes, frames, wheels and other accessories. This is your chance to get a great bike at a low price. Take advantage of the Labor Day Weekend Sale and great deals on these bikes:
Stradalli Two 7 Pro White Edition. Full Carbon Fiber Dual Suspension Mountain Bike
"Faenza" Silver / Black Stradalli Full Carbon Aero Road Bike
"Napoli" Full Carbon Road Bike. Shimano 105 5800 11 Speed. Vision Team 25 Aluminum Clincher Wheel Set
Stradalli Hydraulic Disc Brake Carbon Fiber Road Bike Shimano Ultegra Di2 Vision Team 30 Alloy Wheelset
Phantom II Full Carbon Time Trial Bike. Shimano Ultegra 6800 11 speed. Stradalli 50-85mm Carbon Wheels
Check out our site for more deals and get the best carbon fiber bikes at the lowest prices.
---
Stradalli Cycle Offical Sponsor of Colombian National Team for Richmond 2015 UCI Road World Championships
For the first time in nearly 30 years the UCI Road World Championships will be held on United States soil. The championships will take place in Richmond this year and Stradalli Cycle will be in attendance as the official sponsor of the Colombian National Team.
How big is the event? Nearly 500,000 people will be in attendance for the races and there will be over 300 million people watching on television. To put that into perspective that is nearly 3 times the viewership the Super Bowl receives every year and the Super Bowl only lasts one day.
During the week of September 19-27th, 1,000 cyclists will represent their counties and compete in single races. Unlike the Tour De France each cyclist will only compete in one race for one day, there are no stages. This is a huge honor for the United States as it has not hosted the event since 1986.
For Stradalli Cycle, this will be yet another major international championship they will be represented at. Earlier in the year CEO Tom Steinbacher was personally invited to the Giro d'Italia and attended with Stradalli Cycle team captain Grant Potter.
"It was really cool and an honor to go see the Giro and a lot of people were excited to hear that the UCI championships were going to be in Richmond this year. We notice at the races there are more people in attendance, more sponsors want to be a part of the events and this is even more proof that cycling in the US is getting bigger and bigger. The fact that Stradalli Cycle is going to be represented there is even more special for us and I can't believe how far Tom has taken this company in just a short period of time." Grant Potter
News that Stradalli Cycle has partnered with the Colombia Cycling Federation and agreed to sponsor the national team for the Richmond 2015 UCI Road World Championships adds to an already impressive year for the company.
"Cycling is a global sport and you cannot just look at what is going on in the US. I want people in China, Brazil, Canada, Spain as well as the United States to know the Stradalli Cycle brand and that is happening. Our international sales have skyrocketed this year and this is another great opportunity to get our name out there on a big stage." Stradalli Cycle CEO Tom Steinbacher
This will not be the only international stage the company will be on. Steinbacher and mountain biker Bob McCarty are heading to Europe where McCarty and other Stradalli Cycle mountain bikers will be competing in the 2015 UCI Mountain Bike World Championships and will also be attending the Eurobike show in Germany.
"I've been with this company for years and I think what amazes me the most is that we used to go to races and events and have to introduce ourselves. Now when we go people know the name already, they follow us on social media, they read the blogs and they really have an interest in how the company is progressing. It's pretty cool." Grant Potter
---